10 x GP GREENCELL EXTRA HEAVY DUTY 9V PP3 BATTERY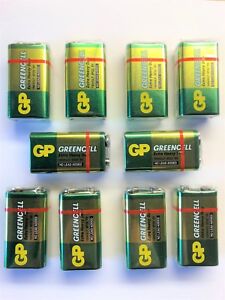 ---
::: Battery Cell UK ::: Welcome to Battery Cell UK Store Home Contact Bookmark FAQ Feedback Shipping/Returns View all categories Fast dispatch & delivery

Dispatched within 24 working hours

We're rated 5/5 for service!

Read our customer feedback!

Huge range in stock

All ready for immediate dispatch

GP GREENCELL 9V PP3 BATTERY PP3 MN1604 6LR61 BLOCK 6LF22 

Before Purchase Please Check Full Specifications below and your Device Model No. ( Baby Monitors are usually on the label inside Battery Compartment underneath the battery itself or in your Manual - Phone system labels are on the underside of the Main Base Unit)
All orders dispatched professionally within 24 working hours from the UK.
Product Description Battery Recycling Battery Advice Shipping/Returns
Quantity

10

Voltage

9v

Capacity (mAh)

n/a

Approx Size (mm)

 PP3 H49 × W18 × D27mm

Connector (mm)

N/A

Brand

GP

Type

Zinc Chloride

Compatible codes

PP3 MN1604 6LR61 BLOCK 6LF22

Compatible Devices

GP's Greencell primary batteries are formulated to provide an economical and reliable power source for low drain devices.

Information

All batteries are individually sealed Ideal for appliances demanding heavy or continuous use that require low to medium power

 

Before Purchase Please Check Full Specifications Above and your Device Model Number

( Baby Monitors are usually on the label inside Battery Compartment underneath the battery itself or in your Manual - Phone system labels are on the underside of the Main Base Unit)

 
Under the Waste Battery Regulations, we offer a takeback scheme for your old battery.
There are two options for take back and battery recycling
You can either send the waste batteries for us to recycle for you free of charge ensuring they are in secure package to prevent any leakage
You may prefer to recycle your waste batteries at a local recycling centre. Most supermarkets and shops that sell batteries have collection bins for used batteries and there are some in town halls, libraries and schools. If you're unsure where your local recycling facility for portable batteries is then please visit the 'recyclenow' website and enter your postcode to locate the nearest recycling centre.
If you are purchasing a rechargeable replacement battery, in order to prolong the life please read the following:
Unless it specifies "Ready to Use", your rechargeable battery will discharge between the end of the production and the moment you receive it. That is why your battery will have to be charged before you use it. You should charge your new battery for at least 16 hours before using it. This will optimize charging of your battery and prolong the life of your battery.
SHIPPING
OUR AIM IS TO PACKAGE & DISPATCH ALL ORDERS WITHIN 24 HOURS OF CLEARED PAYMENT BEING RECEIVED (MONDAY TO FRIDAY)
?FOR UK DELIVERIES ROYAL MAIL SHOULD ARRIVE WITHIN 3 WORKING DAYS EXCLUDING WEEKENDS/BANK HOLIDAYS BUT PLEASE ALLOW UP TO 7 WORKING DAYS FOR OCCASSIONAL ROYAL MAIL DELAYS. IF YOUR ORDER DOES NOT ARRIVE WITHIN A TIMELY MANNER PLEASE CONTACT US TO LET US KNOW AND WE WILL REPLACE.
?OUTSIDE OF THE UK PLEASE ALLOW AROUND 10 WORKING DAYS DEPENDING ON DESTINATION AND CUSTOMS CHECKS -THIS MAY TAKE LONGER DURING DECEMBER DUE TO THE CHRISTMAS PERIOD INTERNATIONAL SERVICES. All international buyers are responsible for all tax, duties and customs fees.
RETURNS/EXCHANGES/REFUNDS
?If you are not satisfied with your purchase, please email 1st before returning the item to us, as often technical problems can be resolved without the need to open cases/claims.
?Returned items should be unused and must be returned in original packaging with any enclosed documentation in its original condition within 30 days of receipt.  We will issue an Exchange/Refund on receipt, which may exclude the original delivery cost.
?Please note:
1.Goods will only be accepted for return if they are returned within 30 days of delivery, unless we have notified you otherwise.
2.The item is your responsibility until it reaches us. Therefore, for your own protection we recommend that you get a 'certificate of posting' from the post office so that in event of loss you can claim from the Royal Mail. A 'certificate of posting' is free from the Post Office, but recorded delivery they will charge extra and not necessary.
Dedicated Support We're here to help whenever you need us Quality Guarantee High quality products at amazing prices Competitive Prices Competitive prices coupled with excellent service UK Based VAT Registered Company Store Navigation Store home Contact us Bookmark FAQ Feedback Shipping/Returns A little about us...

Welcome to Battery Cell UK. We're a uk based company Established in 2001 specialising in a wide range of batteries and much more.

For unbeatable service before and after your purchase choose Battery Cell UK.

Recent customer reviews Very pleased, highly recommended.